We like contests and can put up with some challenges, so both seemed to be natural ways to promote our varied businesses and interests.   After you've read about what's running right now, check out some memorable contests from our past and view a challenge that we embraced.
Current Contests & Challenges

Win Big and Leave Home: Our contest to promote TravElysian, our travel business, ended October 18, 2017 at midnight (PDT) but you never know when the next one will start so you might want to keep this link handy.
W.I.A.B. Challenge:  Jokes in the 'walks into a bar' genre typically start with a man or awoman walking into a bar.  We think anyone and everything can be the subject of a W.I.A.B. joke and your challenge is to stump us.  Learn more…
Memorable Contests
Pick a Name Game: The contest is over but the fun goes on.  To test your creative streak, see if you can come up with a title for one or more of my unnamed photos.  Learn more…
Making it Snow: When the new Academy of Sciences opened in Golden Gate Park, Ellen heard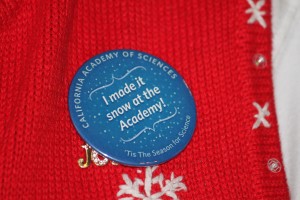 about it and suggested we go.  The tickets, however, were a little pricey for us.  But that didn't stop her.  As a fairly regular KOIT listener, she heard about a special contest to win 4 tickets.  All it took to win was calling in as the right numbered caller and correctly answering the question of the day.  Although it wasn't on her first attempt, she persevered, won the tickets, and was one happy camper.  However, as she told me, "because I'm not often guilty of paying close attention to detail" she missed one important facet of the contest.
A few days after her victory, the station called her with the news that she had been selected from all the other daily winners as the Grand Prize winner.  Her new prize included a 2nd set of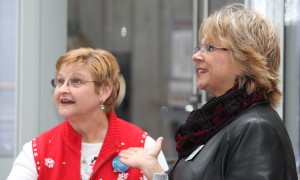 4 tickets, a day of being their special guest at the Academy, and  the privilege of making it snow in one of their exhibits.  December 17, 2010, taking our grandson and some dear friends, we enjoyed special  seating at the planetarium, first in line entrance to the exhibits, and of course, making it snow with then KOIT personality, Laurie Sanders.
Ride to Victory: Before Scott became a teenager, he read about a contest giving away a three-speed bike as the Grand Prize.  It was hosted by a local supermarket and entering only took writing your name (my mom's in this case) and phone number on one of their shopping receipts and dropping it into a box.
Figuring perhaps, that no one would do it, they did not restrict you from using other people's receipts.  I decided to win and spent days (a slight exaggeration) crawling through their parking lot, until my knees became torn and bloody (much bigger exaggeration), picking up receipts.  For a kid it seemed like I collected hundreds and when my mom picked up the phone one day and a moment later screamed, "we WON," I knew my plan to stuff the entry box had worked.
Taking the Challenge
Promise for Education: In the summer of 2013 the University of California launched a program to tap the fundraising power of social networks.  The Promise for Education campaign's goal was to "boost scholarship aid for deserving UC undergraduates through an online campaign…"
It seemed like something I could do with my photography and I promised to post 1 funny image per day for 30 days.  You can see the results of my promise on Photo Guy's Promise for Education page.